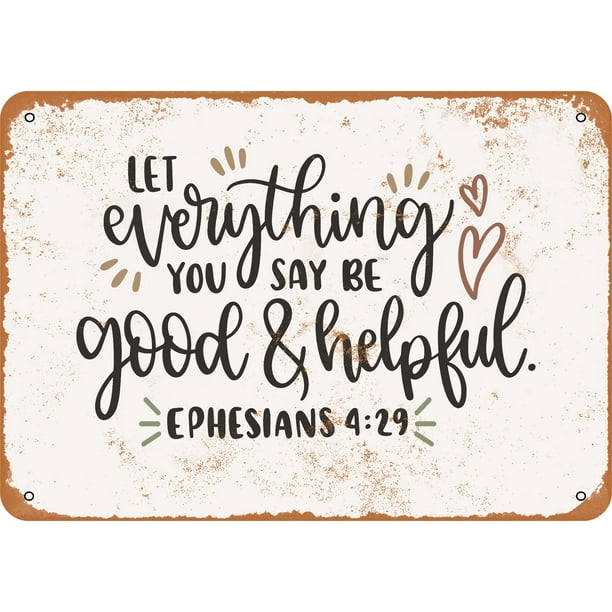 As our Sunday morning bible class finds itself nearing the end of the study Learning to Love by Willard Tate, I also find myself taking some time to consider our role in building one another up in love. Let's face it, that very idea has been placed on hold in so many ways for the last 2 plus years. During that time, we have been forced in many ways, to live our lives for Christ seemingly by ourselves without the real need for one another. Really, how often do we find ourselves considering "one another in order to stir up love and good works" (Hebrews 10:24) outside of assembly times? Hopefully, this whole pandemic thing will soon be behind us and if that is the case, what can we do now and then when our usual time together returns to some sense of normalcy? How do we become anew the people of God who "as iron sharpens iron, so a man sharpens the countenance of his friend" (Proverbs 27:17). A people who would "spend our lives doing the good things he had already planned for us to do" (Ephesians 2:10, ETRV). Of course, there are a number of places one could begin, but for me, what we are encouraged to do in Ephesians 4:29 is one of the important ones; that is, renewing our commitment to becoming people builders.
Let no corrupt word proceed out of your mouth, but what is
good for necessary edification, that it may impart grace to the hearers.
Ephesians 4:29
Willard Tate writes, "We all want and need much more positive input in our lives than we usually get…" What do you think about that? We need not look too hard to see God's view on this matter. He told the church in Thessalonica, "Therefore comfort each other and edify one another, just as you also are doing" (1st Thessalonians 5:11). God inspired Paul to write these words of exhortation to the brethren in Rome, "Love each other in a way that makes you feel close like brothers and sisters. And give each other more honor than you give yourselves" (Romans 12:10, ETRV). This last couple of years have challenged our closeness. I could go on and on about those "one another" verses that remind us of our need for one another. I can't make it home alone! So, in one simple verse the apostle Paul provides us with both the task at hand and the desired result. First, the task at hand, which is, "let no corrupt words proceed out of your mouth." The word translated corrupt (NIV translates it "unwholesome talk") means rotten, useless, depraved, i.e. worthless. Proverbs 11:9, "The hypocrite with his mouth destroys his neighbor…" Proverbs 15:4, "A wholesome tongue is a tree of life, but perverseness in it breaks the spirit." How many lives have been destroyed by words? Just a few verses prior, in Ephesians 4:15 Paul reminded the church in Ephesus of their need to speak "the truth in love." It is not just what we say, but also how we might say it. Our words should be intentional to offer another that which "is good for necessary edification. This word translated edification carries comes from the same Greek word used in 1st Thessalonians 5:11 and carries the idea of architecture, i.e., a structure, figuratively conformation. We are being used by God to help build up His people, His church, one another. I am not talking about those common areas in life like hunting, sports, movies, etc., although those things always play a role in relationships. I am talking about inspiring people in the Christian walks, encouraging them to fight the good fight, stay the course, walk victoriously in Christ. Encouraging people to become all they can ne in Christ. Being part of God's effort to build others up!
This kind of leads us into the second thought from Ephesians 4:29; that is, using our words so "that it may impart grace to the hearers." Our goal is simple, be helpful to another's journey in Christ. Listen to how the ETRV translates some of Ephesians 4:29, "But say the good things that people need – whatever will help them grow stronger." The intent of edification is to build others up, to impart grace. Paul exhorted the church in Colosse, "Let your speech always be with grace, seasoned with salt, that you may know how you ought to answer each one" (Colossians 4:6). Our goa, our intended purpose, is to be favorable towards, leaning towards to share benefit (the meaning of grace in this verse) all we can with our brothers and sisters in Christ. We intentionally seek to use words that encourage, strengthen, build up, guide, and exhort those arounds us to "fight the good fight" and ready ourselves for the return of our Savior Jesus Christ.
This is a daunting task for many, including me! Our personal histories, things we have experienced and learned over the years often collide with such an exhortation as this. Its not that we refuse to do it; but rather, lack the understanding of how to do it. So, we have to learn to be people builders. Immerse ourselves into the word of God and seek Him for transformation. Here is the irony in this whole thing. For us to become people builders, we need the help of others to help build us as they likewise need us to do the same. In the weeks and months to come, I pray God's guiding hand upon us all, that we can pursue with renewed vigor the quest of becoming more of what He would have us to be, one of those things would be People Builders.
Dennis