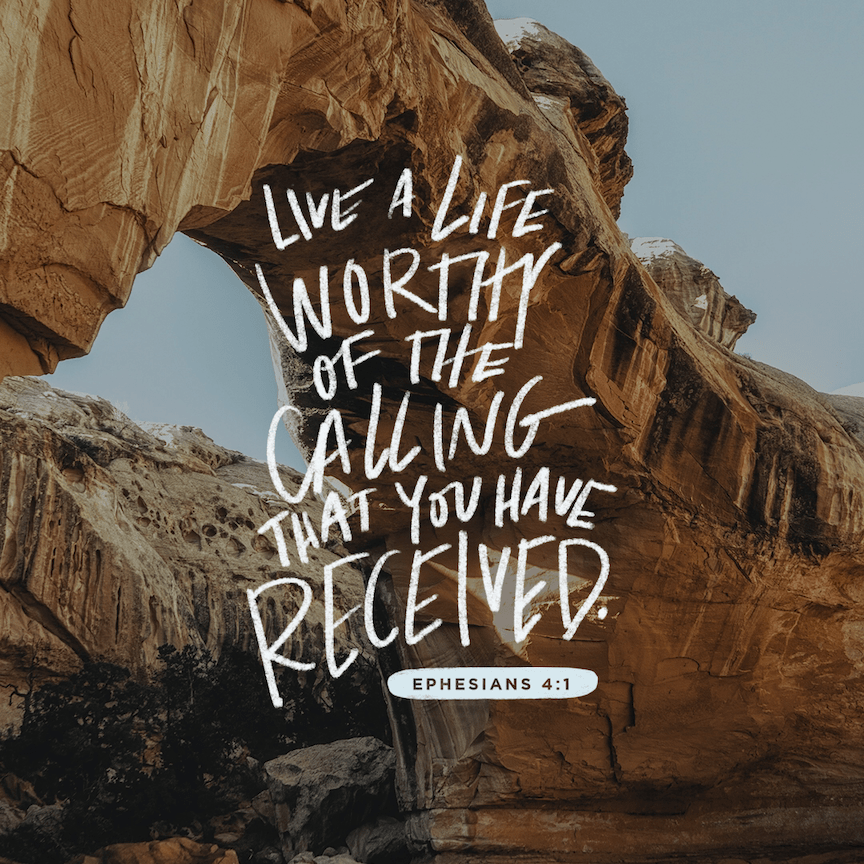 I would like to begin with a question that I had to ask myself, "Has the pandemic effected your walk with Christ in any negative fashion?" Clearly, the fact that we as a body have spent far less time together speaks to the challenges we were confronted with. For me, the fact is, it has impacted me in many ways, some of which I may not be fully aware of yet. Less time in the word. Decrease in prayer time. Less serving others and the list can go on. For me, if I am not intentionally engaged in the transformation process, it usually means I am unwittingly being conformed by the world around me. Our ability to effectively move forward might be helped by our willingness to honestly and thoughtfully answer such questions.
I, therefore, the prisoner of the Lord, beseech you to walk
worthy of the calling with which you were called.
                                                                                                                                    Ephesians 4:1           
As the apostle Paul seeks to encourage the church in Ephesus, he does so by reminding them of something amazing; that is, "that now the manifold wisdom of God might be made known by the church to the principalities and powers in the heavenly places" (Ephesians 3:10).  What an honor and opportunity!  It makes sense then that he prays that the church receive strength from God (3:16), that their faith be focused (3:17) and that they would deepen their understanding of Christ's love (3:19).  For through Him and because of Him the church is able to bring glory to God (3:21).  Thus, we walk with purpose "worthy of the calling" (4:1), seeking "seeking unity of the Spirit in the bound of peace" (4:3).  Unity is part of the church's quest here in this realm.  It's not about me, it is about us. Thus, we seek to grow in His likeness, knowing that each of us offer some essential element that helps provide for the work of the whole (4:16).  If there is anything this past year has taught me, it is how much I need all of you. 
This I say, therefore, and testify in the Lord, that you should no longer
walk as the rest of the Gentiles walk, in the futility of their mind…
                                                                                                            Ephesians 4:17           
It is here that I grasp anew the importance of us being together and working together and growing together. At the core of this letter is the reality, "…that He Himself is our peace, who has made both one, and has broken down the middle wall of separation" (Ephesians 2:14).  Christ has made both Jews and Gentiles one!  As one, yet individuals in Christ, they are exhorted to walk in a certain fashion, avoiding the "futility" of the unbelieving world.  That word is fascinating, for it carries the idea of being transient; that is, lasting only a short time.  It brings with it the idea of depravity, which is moral corruption, wickedness.  Oh, how relevant the scripture is some 2000 years later.  The unbelieving world pushed them and pushes us now.  Conform!  Schools, business, neighborhoods, all being challenged to conform.  Paul would write to Timothy these words, "And from such people turn away" (2nd Timothy 3:5).  Why?  2nd Corinthians 15:33 says it simple in the ETRV, "Don't be fooled: 'Bad friends will ruin good habits.'" 
The truth is, we are not exempt from such pressure, just as those were in the early church. For the last year or so, I have felt that pressure, have you? So, like the church in Ephesus, we are exhorted to pay close attention to our walk, because my walk is not just about me, it is about us. It is about our purpose as the Body of Christ. So, let's help each other to walk worthy of the marvelous grace that has been given to us. Let's walk aware that the world around us seeks to conform us. Let's walk to bring Him glory.
Dennis