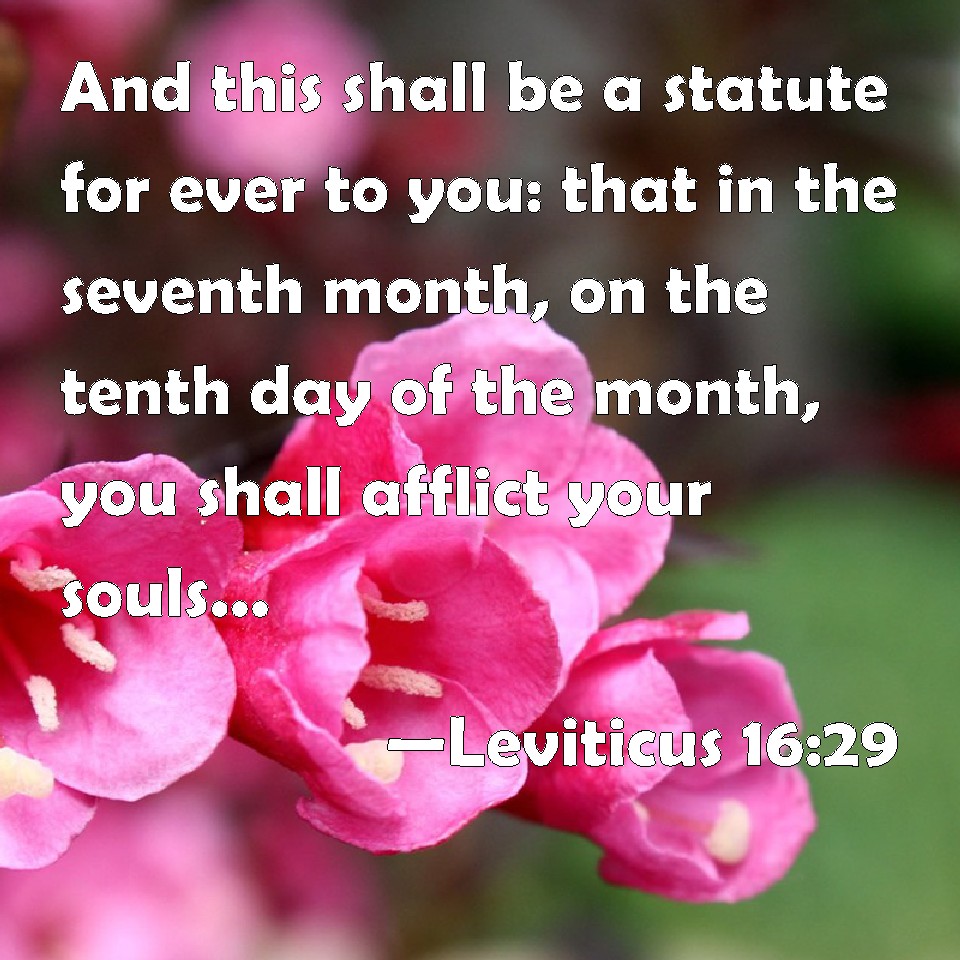 A short while back, Anthony and I sent out an email inviting the church family to join us in a time of prayer and fasting. The email started with this thought, "The subject of fasting and prayer, although biblical, is something we have never really considered nor practiced as a church family." Most of us have fasted before in preparation for some medical procedure or blood tests. So, the idea of it is not entirely foreign to us. But in the context of our spiritual walk with Christ, it could be new to some and something we as a church family have seldom mutually endeavored together in doing. That said, we thought it helpful to take a moment and consider this subject in light of the Scriptures: enabling us to gain insight into the invitation we gave you. We will start by simply asking three questions: What? – When? – How?
"This shall be a statute forever for you: In the seventh month,
on the tenth day of the month, you shall afflict your souls…"
                                                                                                                  Leviticus 16:29          
I started here because of the use of the words "afflict your souls.". Another translation reads, "you shall humble your souls." The word "afflict" carries the idea to bow down, to humble oneself. In Isaiah 58:3, we read, "'Why have we fasted,' they say, 'and You have not seen? Why have we afflicted our souls, and You take no notice?'" Fasting involves an intentional shift in one's attention, one's thoughts, toward God for some reason. What does it mean? In the Hebrew language, the word carries with it the idea to cover the mouth. In Greek, the primary word means to abstain from food. This idea is brought out in Matthew 4:2 when Jesus "fasted forty days and forty nights, afterward He was hungry." So, we know that fasting involved the decision to abstain from food for a period of time for spiritual reasons. When were those periods?
It is here that my interest became heightened. If I understand it correctly, the only "fast" we find that God commanded is Leviticus 16:29, which is the Day of Atonement. Leviticus 16:31, "It is a sabbath of solemn rest for you, and you shall afflict your souls. It is a statute forever." That said, numerous Scriptures show that people fasted for a variety of reasons: Joel 2:12, "Now, therefore,' says the Lord, 'Turn to Me with all your heart, With fasting, with weeping, and with mourning.'" Here, it was involved in the act of repentance. Ezra 8:21, "Then I proclaimed a fast there at the river of Ahava, that we might humble ourselves before our God, to seek from Him the right way for us and our little ones and all our possessions." Here, it involved seeking God's direction. In Acts 13:3, the Church fasted and prayed before the commissioning of Barnabas and Saul and sending them on a missionary journey. Again, in Acts 14:23, "So when they had appointed elders in every Church and prayed with fasting, they commended them to the Lord in whom they had believed." Here, the early Church did it when establishing elders. The "when" appears to be somewhat determined by the situation. Also, the urgency of seeking God because of it.
Now we are left with the "how" of fasting. Quickly my thoughts go to Matthew 6:16-18. Jesus warns His followers, "Moreover, when you fast, do not be like the hypocrites, with a sad countenance, for they disfigure their faces that they may appear to men to be fasting. Assuredly, I say to you; they have their reward." Fasting is not about measuring one's spirituality. Like the Pharisee in Luke 18:12 who said, "I fast twice a week; I give tithes of all I possess." We fast with humility in the heart. We do it not to be seen by men but to focus on our God and His will for us. How we do it together is up to you. You may refrain from foods for a meal or a day. That choice is yours. Health reasons may hinder you from abstaining from all foods, and that is understandable. Remember, this is only an invitation to join together in a common goal: to seek God earnestly for guidance, strength, and forgiveness, you fill in the blank.
May God be glorified through this, and may it set the stage for possible future times when we gather in a common cause to seek out our Lord and His will. So, thank you for considering this invitation. More info to come as March 21st approaches.
Dennis