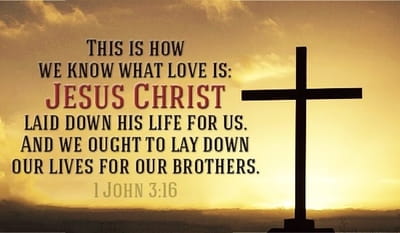 Everybody knows something. Some can list the players of various sports teams, their performance numbers, and their teams. There are those who, through extensive study, can do amazing things like the recent brain surgery on my brother. Some analyze mathematical problems and send people into space. Let's face it, we know so much about so many things, but only one thing truly matters the most. Dwight L. Moody wrote, "The world does not understand theology or dogma, but it understands love and sympathy." In light of our present objective to learn about evangelism, I wonder if its beginning point rests in just how much God loves me. For you can't offer to someone something you don't believe yourself.
By this, we know love… 1st John 3:16            
So, what is the most important thing we can talk to people about concerning God?  The word "know" comes from the Greek word ginosko, which means to come to know, recognize, perceive.  That is why the KJV reads, "Hereby perceive we…"  The ETRV translates it, "This is how we know what real love is…"  Isn't that the most important thing to start with?  For someone to come to understand what real love is?  One might say, "Wait, didn't Jesus reveal to us the greatest commandment of all."  Let's remind ourselves of that command found in Matthew 22:36-40.  Remember, Jesus responds to a question, "Teacher, which is the greatest commandment in the law?"  And His answer, "You shall love the Lord your God with all your heart, with all your soul, and with all your mind."  Yes, I know that love reveals itself through our obedience.  But notice, this is a command of which we are to apply to our lives.  But before we can honestly do so effectively, we first must understand what love is and is not.  We need to perceive just how much God loves us!  Why?  John writes, "We love Him because He first loved us" (1st John 4:19).
By this, we know love because He laid His life for us.  1st John 3:16
I know various doctrinal things play a role in God's redemptive plan, but none so great as knowing God loves us. That love manifests itself in its fullest form in the cross of His Son and our Savior Jesus Christ. He died while we were yet sinners (Romans 5:8), powerless to earn it, yet given the opportunity nonetheless to receive it. That is unconditional love! It is a love that is endless and free. It is the love the beckons the wayward sinner and the struggling follower. It is the love that invites the world to come and find rest.
It is all too easy to assume someone knows they are loved by God, even when they can quote John 3:16. Many within the body of Christ come to "recognize" they are loved long after they obeyed that gospel message. I say that because I am one of those who have. Maybe it is in part because we often don't begin with this amazing truth in the first place. We assume his love rather than focus on it.
So why say all this? It is simple if we are going to want to evangelize a lost and dying world; we need to help them understand first and foremost, God loves them. "For God so loved the world that He gave His only begotten Son, that whoever believes in Him should not perish but have everlasting life" (John 3:16). Lord, help us renew our perception of Your love for us, for sinful man. May the conviction of that move us to share that hope of Your love with those around us.
Dennis