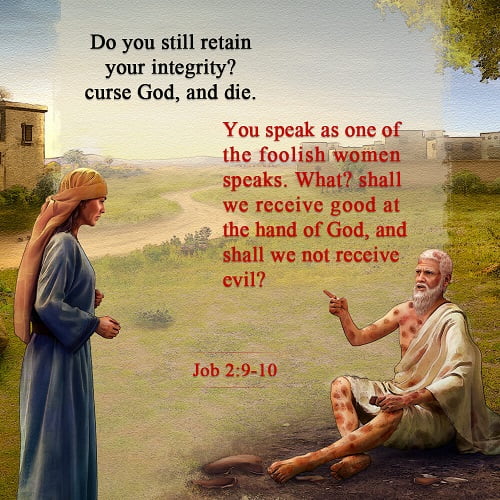 I know this time of year lends itself to the lesson that focuses on the beautiful gift of Jesus Christ, and rightly so, for, after all, it is the Sunday before Christmas. My mind has been thinking about Job since we are studying it in our mid-week study. Also, mostly because of our present situation with the Covid. So many are frustrated and tired of it all.
I suppose you have heard people tell you, or at the very least heard of its use, "Watch and learn." In many ways, that is what we do when we read of the lives of those within the Scriptures. Okay, I realize we were not there to witness them: still, God has provided us with the opportunity to develop a picture in our minds of what it must have been like for them. In so doing, the Lord presents with the chance to watch and learn. For me, never has this been so vivid than now as I look at the life of Job.
There was a man in the land of Uz, whose name was Job; and that man was blameless and upright, and one who feared God and shunned evil.
                                                                                                                                                                Job 1:1            
The character of Job is nothing short of stellar.  James speaks of his "perseverance" (James 5:11) while the prophet Ezekiel highlights him and Noah and Daniel as faithful men during their times when faced with adversity.  It is this time of adversity in Job's life that causes many to struggle with God and His willingness to invite Satan, "Have you considered My ser4vant Job…" (Job 1:8).   We know that Satan "walks about like a roaring lion, seeking whom he may devour" (1st Peter 5:8), and so he was at this time as well (Job 1:7).  Accused of building a "hedge around him" (Job 1:10), God permits, with limits, for Satan to do his dirty work, and so adversity befalls Job.  First, murderers and thieves kill his servants and steal his livestock.  Then, without any time to process what had happened, news that "the fire of God fell from heaven and burned up the sheep" (Job 1:16).  Again, without any reprieve, more bad news comes; this time, bandits steal his camels and murder his servants.  And if that were not enough, unable to catch his breath, the news of his children's death.  I know I was not there, yet as I watch this story play out in my mind, I am overwhelmed with anguish.  The loss must have been so painful!           
Well, one would think this is enough and that  God would not allow Satan to go any further, but you would be wrong.  God allows Satan to continue his attack on Job with the limitation of sparing his life (Job 2:6).  What was Satan's objective?  To prove Job unfaithful. Satan was convinced that Job would "curse You to Your face" (Job 2:5).  That "face," of course, is God's; that is, Job would deny God.  As the story goes, Job's wife felt the anguish of the situation by the words she expressed; "Do you still hold fast to your integrity?  Curse God and die!" (Job 2:9).  Such expressions of despair.  Understandable as well.  Yet, Job responds in a way that we can watch and learn.
Shall we indeed accept good from God, and shall we not accept adversity?
                                                                                                                                                                Job 2:10            
It was an amazing question for Job to ask under so much duress.  We should think about these verses when we face adversity because we believe in Christ.  God's word often speaks about it.  Let's list a couple of familiar ones: James 1:2-8; 1st Peter 1:6-9; 2nd Timothy 3:12; Matthew 5:43-45, and I suspect you could think of even more.  As much as that is true, what do I learn from watching Job's approach to this adversity?  He understood before the event ever took place, of God's sovereignty.  He is the supreme ruler with ultimate power.           
This awareness of Job did not mean that he never struggled with those things he faced; we can see this fact as you read through Job's letter.  That said, this thought appears to be one of his anchoring points to help him deal with His plight.  So, what am I anchored to in my mind?  Best to figure that out before something happens.  So, I read the scriptures so that I can watch and learn.
Dennis