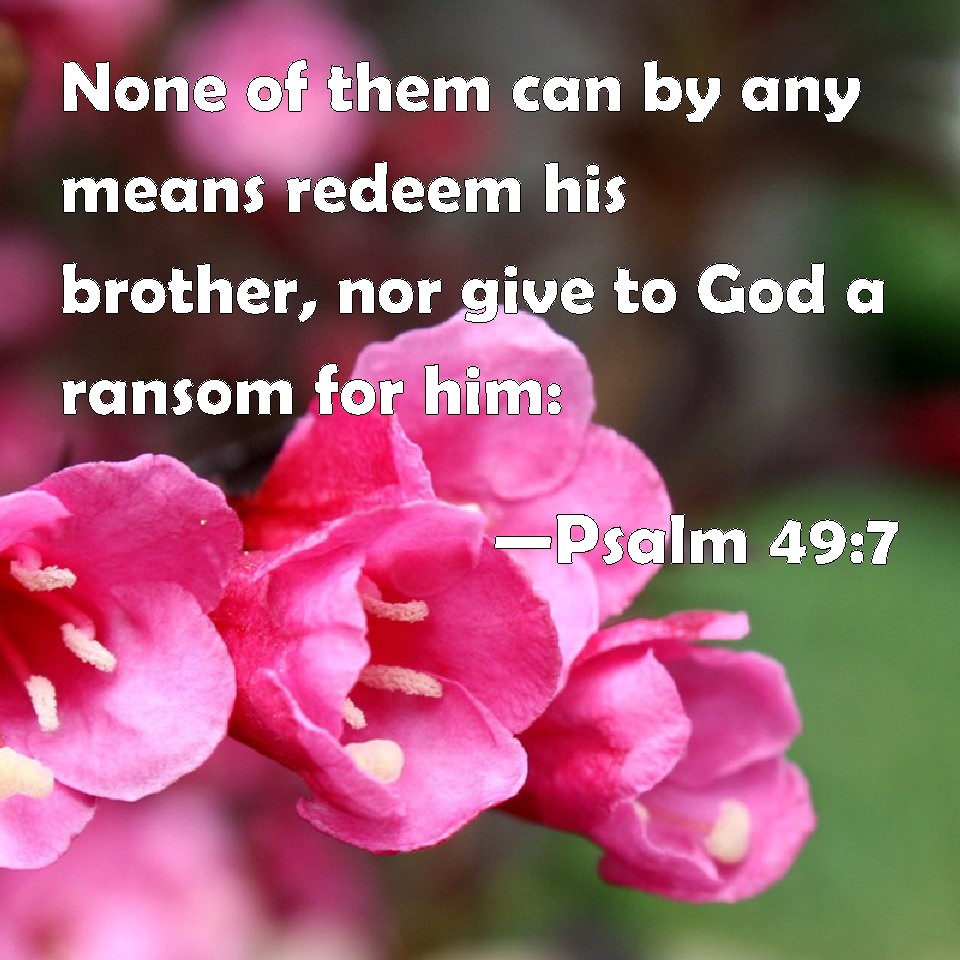 It is presently 8:16 am on Wednesday.  Why is that important?  I am looking at the national debt clock, which shows our debt to be $27,236,795,100,000.  I rounded the number because just during the time it took me to type that sentence, the deficit increased to $27,236,799,350,000.  Okay, I know I type slowly, but not that slow.  As some might say, our national debt is off the charts – astronomical – out of sight or entirely out of control.  For some of us, we need not look at the national debt to realize we are in over our heads, seemingly climbing an uphill battle.           
As serious of a conversation that might be, there is one of even greater importance, and it is that which I want to draw our attention to today.  In a lesson I did some time ago, we approached this subject by considering a "cost analysis."  The cost of redemption, our salvation, my salvation, is understood from at least two vantage points.  First, we need to grasp the amount owed; that is, one's indebtedness.  To understand the full picture, we also need to consider the amount paid, or for the sake of today's lesson, the ransom.  What happens when we take the time to stop and ponder these two ideas?
None of them can by any means redeem his brother, nor give God a ransom for him-
                                                                                                      Psalm 49:7            
The dictionary defines a "Debt" as an obligation that requires one party, the debtor, to pay money or other agreed-upon value to another party, the creditor.  As Jesus taught His disciples about prayer, He says, "And forgive us our debts, as we forgive our debtors" (NKJV, Matthew 6:12).  The Greek word here, like the definition previously given, means that which someone owes.  We see the idea of debt in the parable of the unforgiving servant in Matthew 18.  He owed his master "ten thousand talents" or, as you may remember from previous lessons, 60,000,000 denarii.  In those days, the average pay for a day was around one denarius; thus, making the debt impossible to pay.  Okay, let's stop for a moment and try to grasp this point of spiritual indebtedness.  How much debt do I owe?  What do I owe the Lord?  The Pharisee in Luke 7:39 was unable to see his need as he so quickly noted that the woman who washed Jesus's "feet with her tears" was nothing more than "a sinner."  It's not that he had no debt, but rather, could not see his indebtedness.  There are several reasons why understanding our debt is essential.  Jesus told the Pharisee in Luke 7:47, "But to whom little is forgiven, the same loves little."  To the extent that we are willing to grasp what we owe (spiritually) will be the extent to which we can understand the ransom paid; thus, we come to our second thought.           
What does ransom mean? The definition of ransom is a sum of money or other payment demanded or paid for prison release.   When it comes to one's spiritual indebtedness, we possess no amount that can ransom a life back: not someone else's or our own.  The cost is, well, off the charts – astronomical – out of sight.  By itself, such a reality is bleak, bad news; that is, until we read, "For even the Son of Man did not come to be served, but to serve, and to give His life a ransom for many" (Mark 10:45; Matthew 20:28).  Paul wrote to Timothy that there is "one God and one Mediator between God and man, the Man Christ Jesus, who gave Himself a ransom for all" (1st Timothy 2:5-6).  Why?  Why His life?  It was the cost needed to repurchase us.  It was the ransom owed.  Jesus Christ "gave Himself for us, that He might redeem us from every lawless deed and purify for Himself His own special people" (Titus 2:14).           
Like the unforgiving servant in Matthew 18 or the Pharisee in Luke 7, we can easily forget our indebtedness toward God and, thus, fail to grasp the magnitude of the cost necessary to repurchase us.  So, I encourage us to take a moment and reflect on these two thoughts: the debt we (I) owe and the price that He paid.  For, He paid a debt He did not owe, and I owed a debt I could not pay.  Or, as another song say, amazing grace, how sweet the sound that saved a wretch like me.  
Dennis