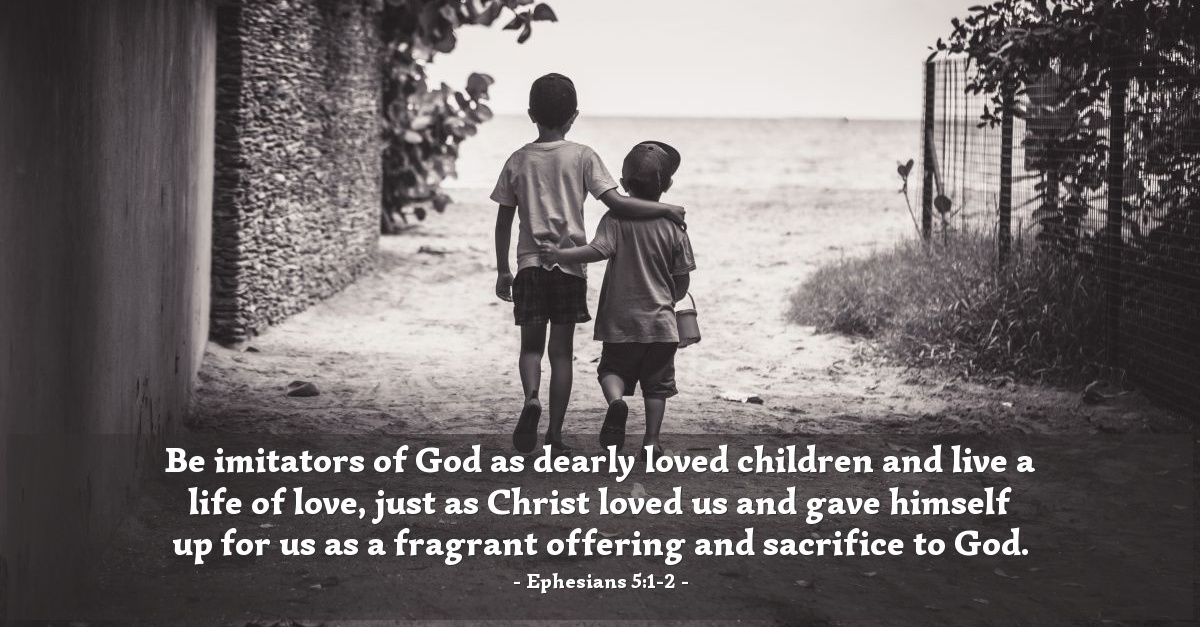 It may be oversimplifying it, but I found this quote by Richard Foster rather intriguing as he sought to give the reason for meditation. He writes, "Christian meditation, very simply, is the ability to hear God's voice and obey his word." It is of value to put that thought in the context of the last couple of lessons focused on God's amazing grace. Grace does not negate obedience but rather places it in the right order of things. I would be willing to say that God's grace promotes and heightens one's desire to be obedient. Meditation is one of those tools meant to help the disciple accomplish such a goal. So, I would like to briefly examine some of the objectives of the apostle Paul in Ephesians 5 that reveal some Christian intentions and consider how meditation can help us in achieving them in our lives.
"Therefore, be imitators of God as dear children. And walk in love…"
Ephesians 5:1-2
When actors are offered a role in a movie that portrays a real historical person, what they do is invest enormous amounts of time looking into the person's life: how they expressed themselves, how they walked, and the list goes on.  All this effort is to try to reveal to the audience a reality of what that person was like while subduing their natural tendencies.  Some memorable roles might be George C. Scott as General Patton, Russel Crowe as John Nash, Meryl Streep as Margaret Thatcher or Cuba Gooding Jr. as James Robert Kennedy in the movie Radio.  The point being, without much effort, the ability to mimic someone is impossible.  The intention of those verses that encourage us to "be diligent" (2nd Timothy 2:15) and give "all diligence" (2nd Peter 1:5) are not intended to have us try and earn something, but rather, to become more like someone.  This call to "walk in love" is defined for us through the sacrifice of Jesus Christ.  The more we spend time learning about (i.e., meditating on) the character and life of Christ, the more effective we will be in imitating Him and thus show that love.
"Walk as children of light…"
Ephesians 5:8
Listen to this statement of confidence given by Paul, "For you were once darkness, but now you are light in the Lord" (Ephesians 5:8). I know I am redundant at this point, but it is worthy of repeating. "The new life is now theirs, yet they are to actualize it – not to gain it but because they already have it." This effort to "walk as children of light" is sought after because we "are light in the Lord." When Paul exhorts the church in Ephesus to "Try to learn what pleases the Lord" (Ephesians 5:10, NCV), he is inviting them to respond to God's grace found in Christ. Such a response will take time and energy; that is, effort on our part. Meditation is part of the learning process that helps to make what we learn part of who we are: in this case, children of light.
"See then that you walk circumspectly…"
Ephesians 5:15
Finally, we can see a direct link between this idea of walking in a fashion that gives us insight into our surroundings and to our ability to "understand what the will of the Lord is" (Ephesians 5:17). The more we understand His will, the better able we are to recognize Satan's efforts to draw us back into darkness. Meditation plays an essential role in equipping us to fight such battles.
We are called, as God's chosen to "walk in love," "walk in the light," and "walk circumspectly." Each helps us to pursue Christlikeness. What does it mean to be Christlike? I invite you to take some time and meditate on that very question. You can find the answer in the pages of our bibles.
Dennis